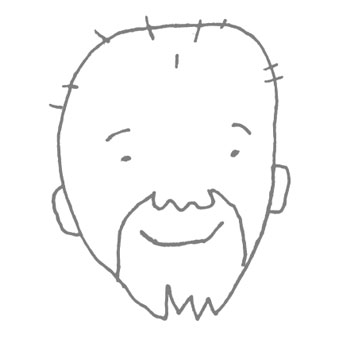 Emmanuel Muraille
Visual artist.
Lives and works in Brussels.
Graduated from Brussels Superior Art School Saint Luc (1976-82), and studied at the Brussels Royal Academy of Fine Arts (1983-86).
Emmanuel Muraille works with many different techniques like photography, tempera, oil, acrylic, charcoal and pastels. His photographic work coexists closely with his painting.
In his work we can detect the influence of Karl Blossfedt's photographs, Simon Hantaï's paintings, as well as realistic Russian painter Ivan Shishkin.
Nature represents for him an infinite and inexhaustible source of inspiration as it offers all imaginable forms and textures, and generates pure emotions. Since 2012, he has been studying the possibility of recomposing nature in an abstract way, through complex structures inspired by his photographic researches.
His recent works show the impact of nature on statues in public spaces, and the contrast between the sad and frozen expression of the sculpture and the fullness of life brought by the wild expression of nature.
He has been working for more than one year on the reconstruction of 15 busts of the Villa Giulia in Palermo. With this work he combines his two main centers of interest: nature and statuary in the public space.
Latest exhibitions :
2013
Collective : Photo competition Fascination of Plants Day at the National botanical garden (2nd price).
2015
Parcours d'artistes d'Uccle : Abstract nature [inks] [painting]
Collective exhibition at Promenade des artistes of Chastre
Exhibition at La Cambre Medical Center : Abstract nature [painting]
Exhibition at Espace St Bernard St Gilles : Life vs Dead (with Valery Zubarof who was the official photographer of Hermitage museum)
Collective exhibition at Cultural Center of Uccle
2016
Exhibition at Espace St Bernard St Gilles : Landscapes (including landscapes for Shakespeare's Ophelia) [painting] [pastels] [photography]
2018
Exhibition "Villa Giulia. From the beautiful to the sublime. 15 photographic interventions" at Archaeological park of Selinunte, for BIAS 2018 (Biennale Internazionale Arte Contemporanea di Palermo)[photography]
Collective exhibition for BIAS 2018 at Museum of Contemporary art of Sicily (Palermo), Orestiadi Foundation (Gibellina), Hotel Metropole (Taormina) and Parco archeologico delle Eolie (Tyndaris) [photography]
2019
Collective exhibition for We Are Artists #7 "La Délirante" at Espace Vanderboght (Brussels) with "Villa Giulia. From the beautiful to the sublime. 15 photographic interventions"